I was really excited when Kathy of
Handmade Dress Haven
posted that she was looking for people to join this blog tour, and I picked up the pattern and got the wheels turning and sat there crossing my fingers hoping I would get picked. <Disclaimer: While I purchased the pattern for this tour, there are affiliate links in this post to the Tie Dye Diva pattern shop>. The
Open Back Baby Dress
has been my go-to pattern for summer baby gifts since last year, and I love it. Jen's (the designer behind TDD) patterns are well written with clear instructions that will help you create beautiful, professional looking garments.
Check out her shoes.
If you haven't seen the
Perfect Party Dress
from Tie Dye Diva, you really should check it out. It's a great "blank slate" type dress that you can make fit any child's style. The pattern is available in two sizes 0-24mo and 2T-10yrs. AND since you've come to check out our tour, you can get the pattern on sale for $6.00 instead of $7.95. (Discount is applied when you add the pattern to your cart).
Inara as usual picked her own fabrics. I sort of had an idea that I wanted a main and an underskirt, or a paneled skirt of some sort. And I originally planned on doing a sash, so I told her to pick three fabrics. I think she did pretty good. They coordinate perfectly. The white and black have these tiny tonal flowers on them that pick up the flowers in the main print very nicely. I'm really starting to enjoy watching her process as she chooses fabrics. She's way more natural at it than I am.
This was our muslin. Clearly we needed some work.
I decided on a wider, gathered strap, and this was the point where I also decided I didn't want a built in sash, so when I cut out my final pieces, I used the front lining piece for main and lining. I also brought the front and back bodice down a little so that the strap would show better on the one side. We used the size 6 and cut the neckline down to the lowest mark on the pattern. Please don't mind my miserable scrap mess... I have a plan for it!
Once I cut out the pieces I cut down the side where I wanted the accent strap and repeated it on the back main and lining for that side as well. I cut my accent strap 5" wide, sewed it in half to form a tube, and then lined it up with the bodice pieces to determine the proper length. I then gathered the ends and attached it to the front and back as shown:
This was a little awkward when sandwiching to attach the lining, but it worked out:
When attaching the main to the lining, you do it like you normally would, but your back piece sort of hangs loose until you attach the underarm seam. Be careful here to make sure that your strap isn't twisted before you attach the underarm. I decided on an exposed zipper instead of buttons, because I had this lovely lace edged zipper that I wanted to use. Before attaching the zipper, I folded up the bottom edge of my lining 1/2" all the way around, so I could enclose the waist seam at the end.
**Here is what I did NOT consider.** In doing the exposed zipper, I sewed the back seams like I would for buttons, so there were no raw edges. Then I laid the zipper on top and basted to make sure it was straight and then stitched it on. The end result is that the dress is a little big on Inara. I choose the size 6 allowing for about 2" of ease in the bodice, so I could do buttons and buttonholes. Without that overlap, it ends up just a little big on her, but not so much that it looks silly, I don't think. So, if you decide to do an exposed zipper, consider that you'll need less room than buttons/buttonholes. If you do a normal zipper, or invisible zipper, it will work out closer to normal, because of the way zippers are installed.
And then it was time for the skirt... I decided to show off my underskirt by adding one ribbon pickup to the skirt.
First, hem your skirt.
I decided about where I wanted it (I did 1/2way between the front middle of the skirt and the side seam), and sewed a line with a 5/8" allowance.
+Kimberly Odell
) sent me, and I find it's great for ripping out long straight seams... you'd think after this long I would stop making long, straight mistakes...
So I moved out my seam to a 3/4" allowance, and serged down both raw edges. And then folded under, ironed, and stitched them in place.
Then starting at the bottom of the skirt, thread your ribbon up through one side and back down the other, leaving long tails on both sides (I left 8" on each side and trimmed - I wanted to have enough that the skirt could be worn not gathered up if desired). Now just attach your skirt to your bodice.
Due to Inara's issues with seams, I decided the best thing for her was to do an enclosed waist seam. Just attach the skirt to only the main fabric, and then fold the lining down over the seam, press and pin in place, and topstitch around. You can whipstitch here as well if you don't want a topstitch on the outside, but it went with the look I was going for, so that's what I did. And you're done!
Inara totally loves the finished dress and had a ball modelling..
Thank you so much for taking the time to check out my dress! I had SO much fun working with this pattern and I'm really excited to be part of this tour. Thank you to Kathy and Jen for doing this and for letting me participate! Again, the dress is available
here in the Tie Dye Diva pattern shop
. I think this dress is definitely worth picking up and having some creative fun with! Make sure you check out the rest of the bloggers on the tour as well: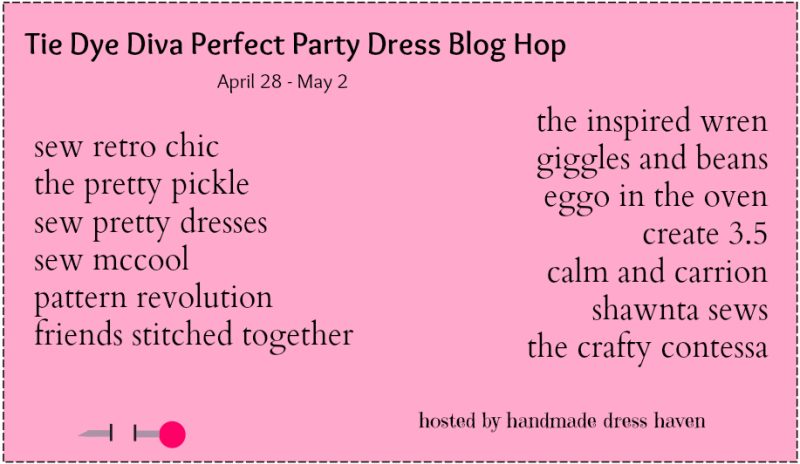 Thanks for stopping by!